Products
Fruit processing

Centrifugal mills

Organic shredder

Box emptying

Washing & mashing

De-stoning

Basket presses

Packing press with sliding carriage

Packing press with rotating carriage

Screen belt press

Juice basin

Stainless steel tanks

Screens

Centrifuges

Homogenizers

Pasteurization systems

Filling systems

Bottle brushing machines

Juice pumps

Mash pumps

Mash basins

Mobile presses
Environmental technology / Shredding

Mashers / shredders

Straw conditioners

Styrofoam shredders
Bag-in-Box filling machine MBF 750-R6 (with 6-positions line filler)
Manual Bag in Box filling system with feed line vessel for hot filling of fruit and vegetable juice in 3, 5, 10 and 20 l standard Bags or 0.25 - 2 l bottles.
Images and Videos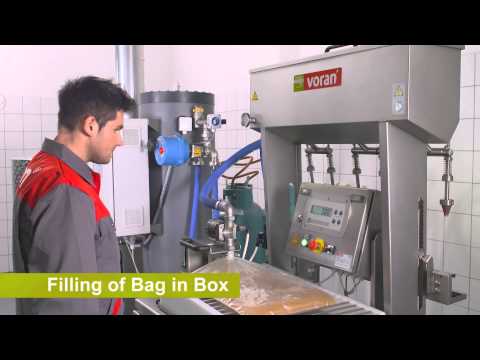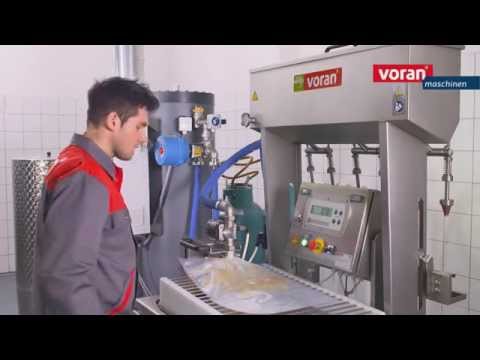 Technical data
Scope of supply
cleaning adapter
Juice vessel
54 l
Connection for juice inlet
ø 19 mm
Compressed air connection
6 bar
Filling accuracy
± 0,5 %
Material
1.4301 / AISI 304
Weight
85 kg
Height
1 075 mm
Width
870 mm
Length
1 280 mm
Connected load
230V 50Hz (1 phase)
Nominal rating l/h
750 (with 10l Bags) l/h
Electrical protection
16 A
Processable materials
Apples, Pears, Quince, Blueberries, Carrots, Vegetables.
This represents just an example, based on different materials and a selection of fruit processed in practice.
Options, accessories and spare parts
175198901
connection cable niveau sensor MBF to EHA
Enquiry
526003300
control valve MBF
Enquiry
526002106
pneumatic valve MBF
Enquiry
190009005
hopper for 10l box MBF
Enquiry
190009006
hopper for 5l box MBF
Enquiry
199900255
filling cone for bottles Ø73 R4/R6
Enquiry
199900297
filling cone for bottles Ø50 R4/R6
Enquiry
199900216
filling cone for bottles Ø40 R4/R6
Enquiry
199900235
filling cone for bottles Ø33 R4/R6
Enquiry
199900283
filling cone for bottles Ø22 R4/R6
Show
Enquiry
199900282
filling cone for bottles Ø17,5 R4/R6
Enquiry
175150000
Stainless steel table for MBF750
Enquiry
Upstream and downstream products