Products
Fruit processing

Centrifugal mills

Organic shredder

Box emptying

Washing & mashing

De-stoning

Basket presses

Packing press with sliding carriage

Packing press with rotating carriage

Screen belt press

Juice basin

Stainless steel tanks

Screens

Centrifuges

Homogenizers

Pasteurization systems

Filling systems

Bottle brushing machines

Juice pumps

Mash pumps

Mash basins

Mobile presses
Environmental technology / Shredding

Mashers / shredders

Straw conditioners

Styrofoam shredders
Basket press 60K
Basket press with pivoting round basket and hydraulic power unit. Easy and safe operation thanks to automatic pressure relief valve on hydraulic power unit.
Images and Videos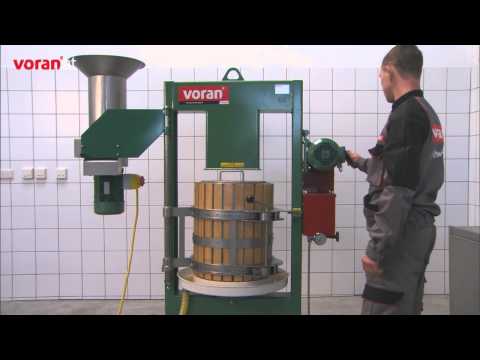 Technical data
Scope of supply
1 press sack 60 l, 3 press covers ø 40 cm, 3 press inserts in acacia wood ø 38 cm
Height pomace ejector
580 mm
Height juice outlet
460 mm
Connection for juice outlet
ø 30 mm
Juice yield
up to 65 %
Press pressure
320 bar
Press force
16,1 to
Material
juice basin made of polystyrene, basket in 1.4301 / AISI 304
Weight
264 kg
Discharge height
1 090 mm
Height
1 720 mm
Width
600 mm
Length
1 100 mm
Electrical protection
16 A
Connected load
400V 50Hz (3 phases)
Motor rating
1,1 (1,5) kW (PS)
Nominal rating kg/h
up to 180 kg/h
Processable materials
Apples, Pears, Carrots, Manioc, Quince, Beetroot, Vegetables.
This represents just an example, based on different materials and a selection of fruit processed in practice.
Options, accessories and spare parts
112640000
pressure plate compl. 60K
Show
Enquiry
800500100
tap top (hand wheel) 60K 100K
Show
Enquiry
571300700
manometer seal 60K/100K
Enquiry
542100200
manometer 600 bar with 320 bar mark 60K
Show
Enquiry
120201400
switch (from model year 2016) 60K/100K
Enquiry
120400400
reverse switch (up to model year 2015) 60K and 100K
Show
Enquiry
110062500
hydraulic power unit (320 bar) 60K
Enquiry
112690002
insert cover Ø 40 cm 60K
Show
Enquiry
112690000
press insert Ø 38 cm 60K
Show
Enquiry
112690001
press bag 60l 60K
Show
Enquiry
112630063
stave 60K
Enquiry
571000300
collar Ø 80 mm 60K
Show
Enquiry
112650012
trough (made of polystyrene) 60K
Enquiry
110062005
pump element 60K and 100K
Show
Enquiry
020201800
V-belt 13x1800 mm (mill) 60K and100K
Enquiry
020200900
V-belt 13x900 mm (pump) 60K and 100K
Enquiry
112765000 + 112765001
chassis complete for 60K/100K
Enquiry
Upstream and downstream products