Products
Fruit processing

Centrifugal mills

Organic shredder

Box emptying

Washing & mashing

De-stoning

Basket presses

Packing press with sliding carriage

Packing press with rotating carriage

Screen belt press

Juice basin

Stainless steel tanks

Screens

Centrifuges

Homogenizers

Pasteurization systems

Filling systems

Bottle brushing machines

Juice pumps

Mash pumps

Mash basins

Mobile presses
Environmental technology / Shredding

Mashers / shredders

Straw conditioners

Styrofoam shredders
Belt press EBP500
Belt press with pneumatic belt tensioner, automatic belt control, high pressure belt cleaner and optional brush cleaning system for the belt. The mash is applied to the belt in a uniform layer by the adjustable metering box, at the end of the pressing sequence the pomace is removed from the belt by a scraper. In combination with our WALC and WAR65 washing systems, the level of the metering box is automatically supervised and controlled.
Images and Videos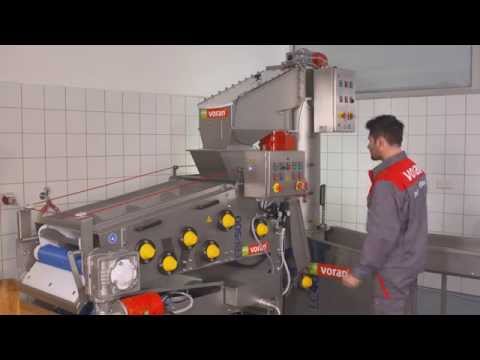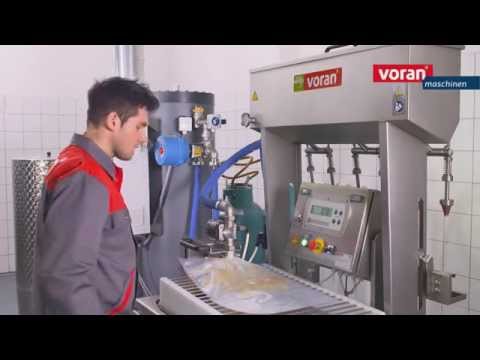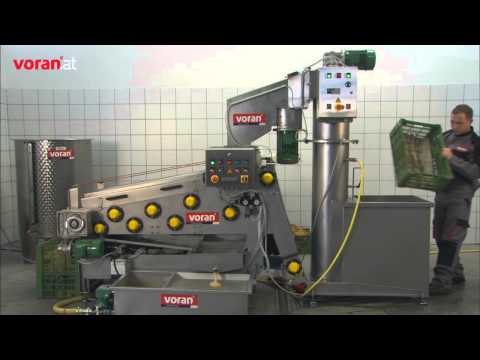 Technical data
Scope of supply
high pressure cleaner, compressor
Height pomace ejector
540 mm
Height waste water drain
170 mm
Height juice outlet
300 mm
Connection for juice outlet
1 ½
Connection for waste water
ø 76,1 mm
Water consumption for cleaning
3 l/min
Contact time
2,8 - 1 min
Belt speed
1,4 - 3,6 m/min
Juice yield
up to 75 %
Material
1.4301 / AISI 304
Weight
585 kg
Conveyor height
0 - 50 (9 levels) mm
Conveyor width
300 mm
Strip length
6 600 mm
Belt width
500 mm
Discharge height
1 300 mm
Height
1 300 mm
Width
1 130 mm
Length
1 860 mm
Electrical protection
16 A
Connected load
400V 50Hz (3 phases)
Motor rating
Drive motor 0,75 (1,02) cleaning motor 0,12 (0,16) kW (PS)
Nominal rating kg/h
up to 700 kg/h
Processable materials
Apples, Pears, Quince, Beetroot, Carrots, Manioc, Vegetables.
This represents just an example, based on different materials and a selection of fruit processed in practice.
Options, accessories and spare parts
410200103
stainless steel wire for screen belt EBP500
Enquiry
410101801
screen belt (from model year 2007) EBP500
Enquiry
410101301
screen belt (up to modeyl year 2006) EBP500
Enquiry
120200600
emergency stop switch EBP500
Enquiry
162241144
plastic bearing Ø 80 mm EBP350 and EBP500
Enquiry
812004001
shaft seal 40-55-7 (from model year 2008) EBP500
Show
Enquiry
812004003
shaft seal 40-72-7 (up to model year 2007) EBP500
Enquiry
220503502
protecting cap EBP500
Show
Enquiry
220503504
flanged housing unit EBP350 and EBP500
Show
Enquiry
164123054
flange bearing EBP500
Enquiry
16449012
belt feeler arm EBP500
Show
Enquiry
10017905
button for valve EBP500
Show
Enquiry
16449020
belt control valve EBP350 EBP500 EBP650 EBP1200
Show
Enquiry
199900540
support frame EBP500 for hose connection
Enquiry
164100001
control box right side EBP500
Enquiry
164136002
dosing hopper for usage with SA-EBP500 (shop assembly)
Enquiry
164136001
dosing hopper for usage with SA-EBP500 (conversion)
Enquiry
10018165
foot extension 150 mm (2 pcs./EBP500)
Enquiry
164150002
foot extension 250 mm (2 pcs./EBP500)
Enquiry
164187000
brush roller driven, on shop assembly EBP500
Enquiry