Products
Fruit processing

Centrifugal mills

Organic shredder

Box emptying

Washing & mashing

De-stoning

Basket presses

Packing press with sliding carriage

Packing press with rotating carriage

Screen belt press

Juice basin

Stainless steel tanks

Screens

Centrifuges

Homogenizers

Pasteurization systems

Filling systems

Bottle brushing machines

Juice pumps

Mash pumps

Mash basins

Mobile presses
Environmental technology / Shredding

Mashers / shredders

Straw conditioners

Styrofoam shredders
Bulk bin tipper GKE for standard bulk bins
Bulk bin lifter including hydraulic power unit for standardised bin sizes (LxWxH = 1200x1000x780). This bin dumper is for easy and consistent filling of washing systems.
Images and Videos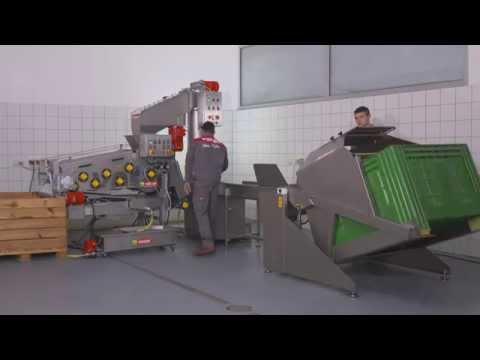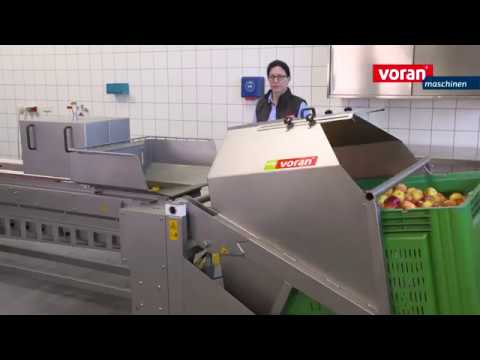 Technical data
Height fruit outlet
845 mm
Width fruit outlet
500 mm
Duration of each pivot
20 sec.
Lift force
up to 550 kg / bin
Material
1.4301 / AISI 304
Weight
350 kg
Discharge height
885 mm
Height
1 290 mm
Width
1 735 mm
Length
1 460 mm
Electrical protection
16 A
Connected load
400V 50Hz (3 phases)
Motor rating
2,2 (3,0) kW (PS)
Height mash outlet
845 mm
Processable materials
Vegetables, Apples, Pears, Carrots, Manioc, Quince, Beetroot.
This represents just an example, based on different materials and a selection of fruit processed in practice.
Options, accessories and spare parts
10031906
chassis (2 pcs./GKE) GKE
Enquiry
10031580
conversion GKE operation left GKE
Enquiry
10018773
tilt height limitation for GKE
Enquiry
120201100
on-off switch GKE
Show
Enquiry
160700001 / 160700015
button (front installation and base) GKE
Show
Enquiry
Upstream and downstream products