Products
Fruit processing

Centrifugal mills

Organic shredder

Box emptying

Washing & mashing

De-stoning

Basket presses

Packing press with sliding carriage

Packing press with rotating carriage

Screen belt press

Juice basin

Stainless steel tanks

Screens

Centrifuges

Homogenizers

Pasteurization systems

Filling systems

Bottle brushing machines

Juice pumps

Mash pumps

Mash basins

Mobile presses
Environmental technology / Shredding

Mashers / shredders

Straw conditioners

Styrofoam shredders
Centrifugal mill RM5,5
Centrifugal mill with replaceable stainless steel screens for adjusting the degree of shredding for pomaceous fruit, stone fruit and berries. Optionally with shredder disc.
Images and Videos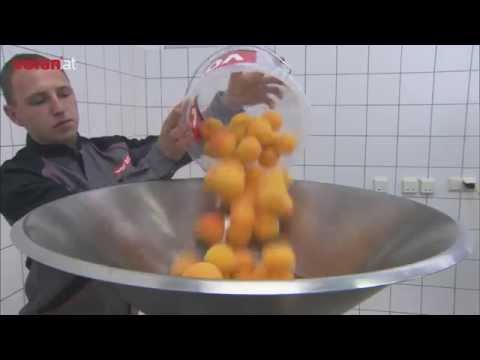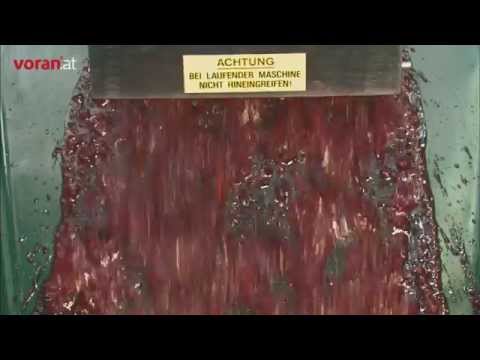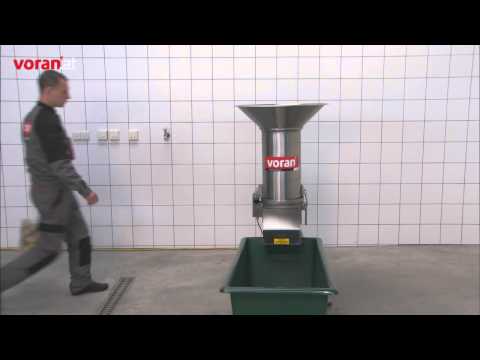 Technical data
Scope of supply
cutting screen 9 mm
Height mash outlet
470 mm
Weight
88 kg
Discharge height
1 410 mm
Height
1 410 mm
Width
730 mm
Length
1 200 mm
Electrical protection
16 A
Connected load
400V 50Hz (3 phases)
Motor rating
5,5 (7,5) kW (PS)
Nominal rating kg/h
up to 4 200 kg/h
Material
1.4301 / AISI 304
Processable materials
Vegetables, Apples, Pears, Blueberries, Carrots, Manioc, Quince, Beetroot.
This represents just an example, based on different materials and a selection of fruit processed in practice.
Options, accessories and spare parts
10022495
foot extension 250 mm RM5,5
Enquiry
10028529
foot extension 60 mm RM5,5
Enquiry
105401136RM-1
E-Motor compl. incl. switch and hub RM5,5
Enquiry
120300300
switch RM5,5
Enquiry
810700301
V-Ring RM5,5
Show
Enquiry
400100100
polyamide wheel P1 DM 80x24 mm RM5,5
Enquiry
321201074
rubber ring RM5,5
Show
Enquiry
300201044
injection rubber RM5,5
Show
Enquiry
133170002
welded tool "short" for stone fruit RM5,5
Enquiry
133170001
welded tool RM5,5
Show
Enquiry
321270032
shredder disc for RM5,5
Show
Enquiry
133171063
33 mm slotted hole screen (peach, apricot) RM5,5
Enquiry
133171013
17 mm slotted hole screen (plum) RM5,5
Enquiry
133171023
9 mm slotted hole screen (cherry, rowanberry) RM5,5
Enquiry
133171033
16 mm perforated screen RM5,5
Enquiry
321271104
14 mm perforated screen RM5,5
Enquiry
321271074
12 mm perforated screen RM5,5
Enquiry
321271044
8 mm perforated screen RM5,5
Enquiry
321271064
6 mm perforated screen RM5,5
Enquiry
321271034
5 mm perforated screen RM5,5
Enquiry
321271024
3 mm perforated screen RM5,5
Enquiry
133171183
16 mm cutting screen RM5,5
Enquiry
133171163
12 mm cutting screen RM5,5
Enquiry
133171173
9 mm cutting screen RM5,5
Show
Enquiry
133171073
7 mm cutting screen RM5,5
Enquiry
Similar products
Upstream and downstream products