Products
Fruit processing

Centrifugal mills

Organic shredder

Box emptying

Washing & mashing

De-stoning

Basket presses

Packing press with sliding carriage

Packing press with rotating carriage

Screen belt press

Juice basin

Stainless steel tanks

Screens

Centrifuges

Homogenizers

Pasteurization systems

Filling systems

Bottle brushing machines

Juice pumps

Mash pumps

Mash basins

Mobile presses
Environmental technology / Shredding

Mashers / shredders

Straw conditioners

Styrofoam shredders
Cleaning and sorting table BRM
The Cleaning and sorting table is a combination device for cleaning and manual sorting of your fruit and vegetables. Cleaning takes place with the help of water spriklers and brushes from three sides. During the brushing process, the fruit can be sorted out manually by one or more people in the back area.
Images and Videos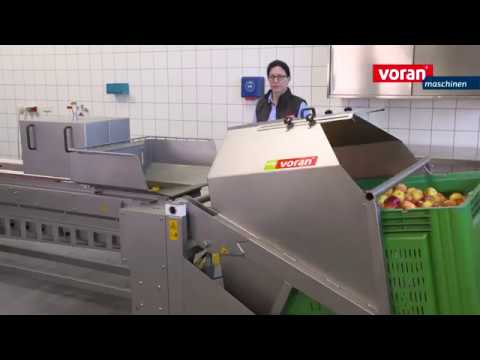 Technical data
contact time
5 - 50 sec.
Fruit discharge height
700 mm
Fruit insertion height
840 mm
Fresh water connection
3/4
Plug type
F (=SCHUKO)
Brushes contact length
2 x 2 m
Weight
350 kg
Height
1 400 mm
Width
825 mm
Length
2 670 mm
Electrical protection
16 A
Connected load
220V 50Hz (1 phase)
Motor rating
1,5 (2,0) kW (PS)
Nominal rating kg/h
up to 2 000 kg/h
Processable materials
Apples, Pears, Vegetables.
This represents just an example, based on different materials and a selection of fruit processed in practice.
Options, accessories and spare parts
10034200
magnetic water valve 3/4" BRM
Enquiry
10032968
conversion operation left BRM
Enquiry
881200150
brush strip BRM
Enquiry
881200230
round brush spiral blue (8 pcs./BRM) BRM
Enquiry
881200220
round brush spiral yellow (8 pcs./BRM) BRM
Enquiry
10026838
spur gear DM20 BRM
Enquiry
10026837
spur gear DM25 BRM
Enquiry
221202501
flanged bearing open BRM
Enquiry
221202500
flanged bearing closed BRM
Enquiry