Products
Fruit processing

Centrifugal mills

Organic shredder

Box emptying

Washing & mashing

De-stoning

Basket presses

Packing press with sliding carriage

Packing press with rotating carriage

Screen belt press

Juice basin

Stainless steel tanks

Screens

Centrifuges

Homogenizers

Pasteurization systems

Filling systems

Bottle brushing machines

Juice pumps

Mash pumps

Mash basins

Mobile presses
Environmental technology / Shredding

Mashers / shredders

Straw conditioners

Styrofoam shredders
Elevator SA200 with centrifugal mill RM2,2
Washing system of stainless steel for fruits and vegetables with attached pivoting centrifugal mill. The washing system consists of sorting grid, washing vessel, chain conveyor and add-on pivoting centrifugal mill RM2.2. The conveyor speed can be adjusted by using the integrated frequency converter. The Elevator is suitable for different foods e.g. fruits, berries or vegetables. Due to the movability, there is a use with our without the Centrifugal mill possible without any modification work.
Images and Videos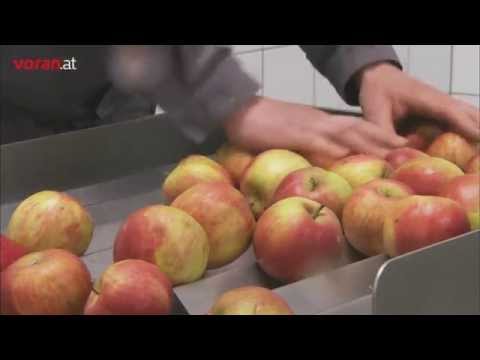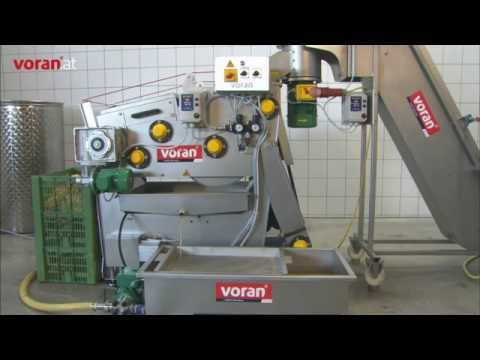 Technical data
Scope of supply
perforated screen 9 mm and cutting screen 16 mm
Height mash outlet
1 330 mm
Connection for washing vessel
1 ½ "
Connection for cleaning
½ "
Material
1.4301 / AISI 305
Weight
222 kg
Discharge height
840 mm
Height
2 175 mm
Width
730 mm
Length
2 640 mm
Electrical protection
16 A
Connected load
400V 50Hz (3 phases)
Motor rating
Elevator 0,25 (0,34) Mill 2,2 (3,0) kW (PS)
Nominal rating kg/h
up to 1 000 kg/h
Processable materials
Vegetables, Apples, Pears, Carrots, Cherries, Manioc, Quince, Beetroot, Tomatoes.
This represents just an example, based on different materials and a selection of fruit processed in practice.
Options, accessories and spare parts
10034414
Conversion kit SA200 solo to SA200 RM2,2 from 2016 (type 1469)
Enquiry
10034413
Conversion kit SA200 solo to SA200 RM2,2 from 2016 (type 1468)
Enquiry
10034412
Conversion kit SA200 solo to SA200 RM2,2 until 2016 (type 1465)
Enquiry
121000523
actuator for safety end switch SA200
Enquiry
121000520
safety end switch SA200
Enquiry
10034722
screen small perforation SA200
Enquiry
10034723
tilting steel sheet small perforation SA200
Enquiry
018100020
pinion gear wheel (from model year 2006) SA200
Enquiry
018100011
synthetic conveyor chain (from model year 2006) SA200
Enquiry
018100026
connecting rod DM 6 mm SA200
Enquiry
018100022
bolt (red) for plastic link belt SA200
Enquiry
018100007
carrier series (up to model year 2005) SA200
Enquiry
018100014
carrier series (from model year 2006) SA200
Show
Enquiry
120200700
switch 2,2kW for centrifugal mill SA200
Enquiry
110207700
worm gear motor (from model year 2010) SA200
Enquiry
110203600
worm gear motor (up to model year 2009) SA200
Enquiry
220602501
flanged housing unit SA200
Enquiry
160200095
frequency inverter for type 1468..... SA200
Enquiry
160200029
frequency inverter for type 1465..... SA200
Show
Enquiry
10032203
dosing unit (SA200) for usage with 100P
Enquiry
10030596
hopper for SA200 with EP1000
Enquiry
10029120
hopper for SA200 with EP500
Enquiry
10030569
magnetic water valve 1/2" for SA200 (only from model year 2016)
Enquiry
10026925
hopper for SA200 in combination with GKE (SA200)
Enquiry
Upstream and downstream products