Products
Fruit processing

Centrifugal mills

Organic shredder

Box emptying

Washing & mashing

De-stoning

Basket presses

Packing press with sliding carriage

Packing press with rotating carriage

Screen belt press

Juice basin

Stainless steel tanks

Screens

Centrifuges

Homogenizers

Pasteurization systems

Filling systems

Bottle brushing machines

Juice pumps

Mash pumps

Mash basins

Mobile presses
Environmental technology / Shredding

Mashers / shredders

Straw conditioners

Styrofoam shredders
Elevator SA300 with centrifugal mill RM4
Washing system of stainless steel for fruits and vegetables with attached pivoting centrifugal mill. The washing system consists of sorting grid, washing vessel, chain conveyor and add-on pivoting centrifugal mill RM4. The conveyor speed can be adjusted by using the integrated frequency converter. The Elevator is suitable for different foods e.g. fruits, berries or vegetables. Due to the movability, there is a use with our without the Centrifugal mill possible without any modification work.
The SA300 perfectly fits in performance into the voran® product range. Despite lower hourly output, the SA300 convinces with the same characteristics and advantages as the SA400. For getting best crushing results of vegetables the machine can be equipped optionally with a suitable tool.
Images and Videos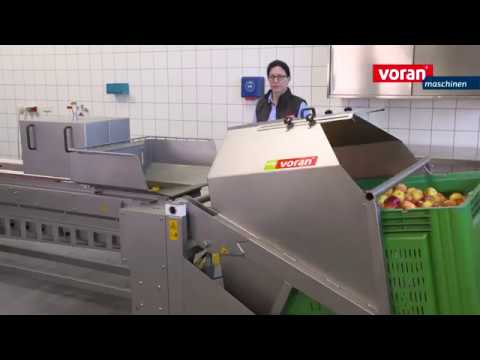 Technical data
Scope of supply
cutting screen 7 mm, 9 mm and 12 mm
Height mash outlet
1 570 mm
Connection for washing vessel
2" outside
Connection for cleaning
½ "
Material
1.4301 / AISI 304
Weight
350 kg
Discharge height
850 mm
Height
2 585 mm
Width
935 mm
Length
3 540 mm
Electrical protection
16 A
Connected load
400V 50Hz (3 phases)
Motor rating
Elevator 0,55 (0,75) / Mill 4 (5,4) kW (PS)
Nominal rating kg/h
1 000 - 3 000 kg/h
Processable materials
Apples, Pears, Vegetables, Carrots, Cherries, Manioc, Tomatoes, Quince, Beetroot.
This represents just an example, based on different materials and a selection of fruit processed in practice.
Options, accessories and spare parts
880700100
membrane in fruit acid resistant version SA300 SA400
Enquiry
145198034
sheet for membrane switch SA300 / SA400 / WA LC / WAR65
Show
Enquiry
160800039
connection cable 5 m SA300 SA400
Show
Enquiry
160800038
inductive proximity switch (initiator) SA300 SA400
Show
Enquiry
10034568
16 mm cutting screen for SA300
Enquiry
10034562
12 mm cutting screen for SA300
Enquiry
10034560
9 mm cutting screen for SA300
Enquiry
10034561
7 mm cutting screen for SA300
Enquiry
10033447
filter holder SA300
Enquiry
810700401
V-ring (tool mill) SA300 WA LC40
Enquiry
10033766
carrier 200mm SA300
Enquiry
10033767
carrier 100mm SA300
Enquiry
018100017
plastic gear wheel SA300 SA400
Enquiry
812003005
shaft seal 30-52-5 SA300 SA400
Enquiry
10034197
plastic link belt SA300
Enquiry
221303001
protective cap, gearbox-sided SA300 SA400
Enquiry
221303002
protective cap SA300 SA400
Enquiry
221303000
flanged housing unit SA300 SA400
Enquiry
147400010
conversion kit SA300 to shredder disc and pre-cutting knife (shop assembly)
Enquiry
10034693
dosing unit SA300 for usage with packing press
Enquiry
Upstream and downstream products