Products
Fruit processing

Centrifugal mills

Organic shredder

Box emptying

Washing & mashing

De-stoning

Basket presses

Packing press with sliding carriage

Packing press with rotating carriage

Screen belt press

Juice basin

Stainless steel tanks

Screens

Centrifuges

Homogenizers

Pasteurization systems

Filling systems

Bottle brushing machines

Juice pumps

Mash pumps

Mash basins

Mobile presses
Environmental technology / Shredding

Mashers / shredders

Straw conditioners

Styrofoam shredders
Hammer mill KH2
Hammer mill with filling funnel and easy-change screen for optimum consistency output.
Images and Videos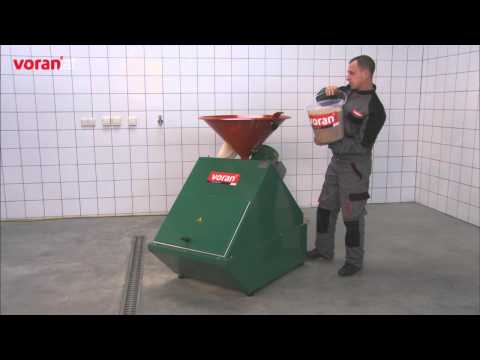 Technical data
Number of hammers
4x7
Capacity with mixed grain (screen 3mm)
840 kg/h
Capacity with oats (screen 3mm)
520 kg/h
Material
Painted steel
Weight
155 kg
Height
1 270 mm
Width
1 205 mm
Length
725 mm
Electrical protection
32 A
Connected load
400V 50Hz (3 phases)
Motor rating
7,5 (10,2) kW (PS)
Processable materials
Grain.
This represents just an example, based on different materials and a selection of fruit processed in practice.
Options, accessories and spare parts
216271009
screen 12 mm perforation, unperforated face side KH2
Enquiry
216271008
screen 10 mm perforation, perforated face side KH2
Enquiry
216271007
screen 8 mm perforation, perforated face side KH2
Enquiry
216271006
screen 6 mm perforation, unperforated face side KH2
Enquiry
216271005
screen 5 mm perforation, unperforated face side KH2
Enquiry
216271004
screen 4 mm perforation, unperforated face side KH2
Enquiry
216271001
screen 3 mm perforation, perforated face side KH2
Enquiry
216271003
screen 2,5 mm perforation, perforated face side KH2
Enquiry
216271002
screen 2 mm perforation, perforated face side KH2
Enquiry
811000100
rubber seal door KH
Enquiry
216101164
dust bag 90 x 300 mm KH
Enquiry
216270044
crusher set (28 pcs. = 1 set) KH2
Enquiry
Similar products
Upstream and downstream products