Products
Fruit processing

Centrifugal mills

Organic shredder

Box emptying

Washing & mashing

De-stoning

Basket presses

Packing press with sliding carriage

Packing press with rotating carriage

Screen belt press

Juice basin

Stainless steel tanks

Screens

Centrifuges

Homogenizers

Pasteurization systems

Filling systems

Bottle brushing machines

Juice pumps

Mash pumps

Mash basins

Mobile presses
Environmental technology / Shredding

Mashers / shredders

Straw conditioners

Styrofoam shredders
Juice collection tank for Screen belt presses
Collection basin with 1 mm coarse screen. Easy and safe operation thanks to fully automatic impeller pump. Juice collection tank is suitable for all voran Belt presses.
Images and Videos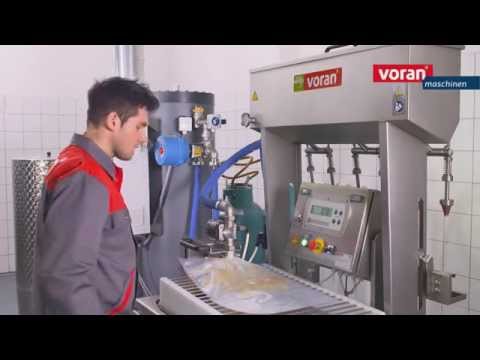 Technical data
Scope of supply
screen 1 mm
Connection for juice outlet
1
Material
1.4301 / AISI 304
Weight
30 kg
Height
290 mm
Width
510 mm
Length
1 325 mm
Electrical protection
16 A
Connected load
400V 50Hz (3 phases)
Motor rating
0,37 (0,75) kW (PS)
Nominal rating l/h
1 800 l/h
Processable materials
Apples, Pears, Quince, Blueberries, Beetroot, Carrots, Manioc, Vegetables.
This represents just an example, based on different materials and a selection of fruit processed in practice.
Options, accessories and spare parts
190002149
exchange pump and motor Juice collection tank from 2016
Enquiry
10021879
exchange pump and motor 65 l tank up to 2016
Enquiry
190002089
impeller neoprene for impeller pump type A (Juice collection tank)
Enquiry
190002064
impellerset neoprene type B (Juice collection tank)
Show
Enquiry
10023885
supply pipe for Juice collection tank for 100P2 rotary cage
Enquiry
10019405
screen for Juice collection tank with frame
Enquiry
10030385
Conversion for Juice collection tank to 3.600 l/h (for EBP1200)
Enquiry
Similar products
Upstream and downstream products