Products
Fruit processing

Centrifugal mills

Organic shredder

Box emptying

Washing & mashing

De-stoning

Basket presses

Packing press with sliding carriage

Packing press with rotating carriage

Screen belt press

Juice basin

Stainless steel tanks

Screens

Centrifuges

Homogenizers

Pasteurization systems

Filling systems

Bottle brushing machines

Juice pumps

Mash pumps

Mash basins

Mobile presses
Environmental technology / Shredding

Mashers / shredders

Straw conditioners

Styrofoam shredders
Pasteurizer PA180 E (electric)
Electro-pasteurizer with heating coil and tube heat exchanger. Straightforward operation thanks to manual flow control and digital display for supervising temperature. Using the 2-bottle filling system allows different sizes of bottle to be filled at the same time. This pasteurizer is also available with a filling system for Bag in Box.
Images and Videos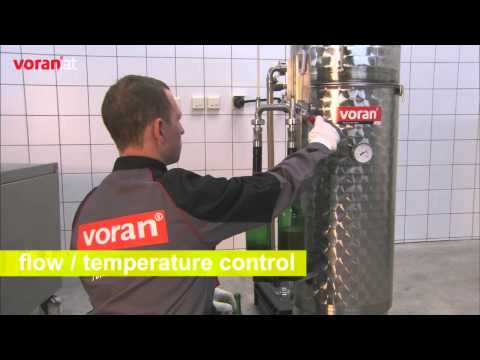 Technical data
Scope of supply
incl. 2 bottle filling valves or filling system for Bag in Box
Juice vessel
65 l
Water content
100 l
Material
1.4301 / AISI 304
Weight
(without filling device) 49 kg
Height
(without filling device) 1 650 mm
Width
(without filling device) 600 mm
Electrical protection
32 A
Connected load
400V 50Hz (3 phases)
Electrical power
18 kW
Nominal rating l/h
180 l/h
Processable materials
Apples, Pears, Quince, Blueberries, Vegetables.
This represents just an example, based on different materials and a selection of fruit processed in practice.
Options, accessories and spare parts
172100288
bottle centering plate PA180 f. 2l-bottle
Enquiry
172100021
nozzle for wide mouth bottle PA180E
Enquiry
172100026
cleaning ball Ø 25 PA180E
Enquiry
172100022
entire cleaning set PA180E
Enquiry
172100165
filling device Bag-in-Box PA180E
Enquiry
172100150
filling device bottle 2-positions PA180E
Enquiry
Upstream and downstream products