Products
Fruit processing

Centrifugal mills

Organic shredder

Box emptying

Washing & mashing

De-stoning

Basket presses

Packing press with sliding carriage

Packing press with rotating carriage

Screen belt press

Juice basin

Stainless steel tanks

Screens

Centrifuges

Homogenizers

Pasteurization systems

Filling systems

Bottle brushing machines

Juice pumps

Mash pumps

Mash basins

Mobile presses
Environmental technology / Shredding

Mashers / shredders

Straw conditioners

Styrofoam shredders
Pasteurizer PA2000-RWT-O
Oil pasteurizer and tube heat exchanger with automatic temperature control for preserving fruit and vegetable juice. In combination with our Bag in Box filling system MBF750, the unit automatically switches to standby if the supply vessel is full.
Images and Videos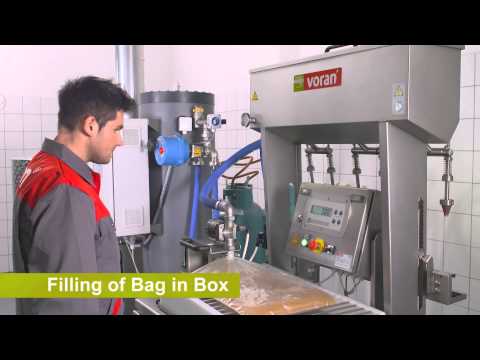 Technical data
Oil consumption
19 l/h
Weight
492 / 600 kg
Height
1 880 mm
Width
900 mm
Length
1 715 mm
Electrical protection
16 A
Connected load
230V 50Hz (1 phase)
Electrical power
1,8 kW
Heating system rating
140 - 180 kW
Nominal rating l/h
2 000 l/h
Processable materials
Apples, Pears, Quince, Blueberries, Vegetables.
This represents just an example, based on different materials and a selection of fruit processed in practice.
Options, accessories and spare parts
10024286
PA-switch-off for 220 l tank
Enquiry
10022850
exhaust gas integration (Y-part) PA1500 PA2000
Enquiry
430201657
flue bend 90° in three parts ø200 mm stainless steel PA500 PA750 PA1000 PA2000
Enquiry
430100557
exhaust pipe 1000mm ø200 mm stainless steel PA500 PA750 PA1000 PA2000
Enquiry
172500013
PA-puree conversion
Enquiry
172500014
PA-puree retrofit kit
Enquiry
10026228
PA-switch-off for 530 l tank
Enquiry
172100240
canister tank connection with filter PA
Enquiry
17259500
temperature logger PA
Enquiry
440100601
food-safe hose Uni-Milch 25x7mm PA
Enquiry
440100613
food-safe hose Uni-Milch 19x6mm PA
Enquiry
190002089
impeller neoprene for pump A PA
Enquiry
190002064
impeller neoprene for pump type B PA
Show
Enquiry
172100058
ball valve three-way 1/2" PA
Enquiry
172100057
magnetic valve PA
Enquiry
172100083
temperature regulator type 0511 (from model year 2005) PA
Show
Enquiry
172100055
temperature regulator type 8400 (up to model year 2005) PA
Enquiry
Upstream and downstream products