Products
Fruit processing

Centrifugal mills

Organic shredder

Box emptying

Washing & mashing

De-stoning

Basket presses

Packing press with sliding carriage

Packing press with rotating carriage

Screen belt press

Juice basin

Stainless steel tanks

Screens

Centrifuges

Homogenizers

Pasteurization systems

Filling systems

Bottle brushing machines

Juice pumps

Mash pumps

Mash basins

Mobile presses
Environmental technology / Shredding

Mashers / shredders

Straw conditioners

Styrofoam shredders
Pasteurizer PA90 (electric)
Electro-pasteurizer with heating coil and tube heat exchanger. Straightforward operation thanks to manual flow control and manometer for supervising temperature.
Images and Videos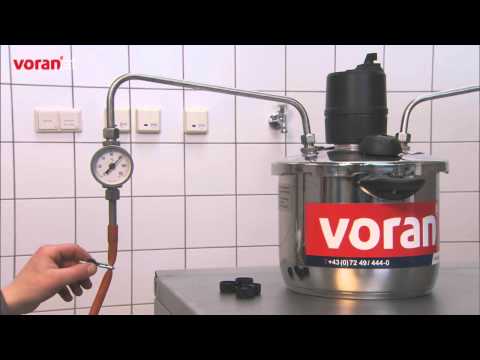 Technical data
Material
1.4301 / AISI 304
Weight
10 kg
Electrical protection
16 A
Connected load
400V 50Hz (3 phases)
Electrical power
6 kW
Nominal rating l/h
up to 90 l/h
Processable materials
Apples, Pears, Quince, Blueberries, Vegetables.
This represents just an example, based on different materials and a selection of fruit processed in practice.
Options, accessories and spare parts
880300100
glass tube PA90
Enquiry
880400100
all-purpose thermometer PA90
Show
Enquiry
881100303
cover seal (Comfort Fissler) Ø26cm PA90
Enquiry
881100302
cover seal (Fissler) Ø26cm PA90
Show
Enquiry
881100300
cover seal (Kelomat) Ø26cm PA90
Show
Enquiry
450100400
hose clamp PA90
Enquiry
440100400
filling hose Ø12x2,5 mm PA90
Enquiry
440100300
filling hose Ø10x2 mm PA90
Show
Enquiry
811200300
ALU-seal for heating PA90
Show
Enquiry
811100100
seal for heating PA90
Enquiry
171100800
capillary tube regulator PA90
Enquiry
171100213
heating 380V PA90
Show
Enquiry
171100602
pipe coil, stainless steel PA90
Show
Enquiry
810803700
O-Ring PA90
Show
Enquiry
880400301
dial thermometer PA90
Show
Enquiry
171200404
drain pipe with dial thermometer PA90
Show
Enquiry
171100304
feed pipe PA90
Show
Enquiry
Upstream and downstream products