Products
Fruit processing

Centrifugal mills

Organic shredder

Box emptying

Washing & mashing

De-stoning

Basket presses

Packing press with sliding carriage

Packing press with rotating carriage

Screen belt press

Juice basin

Stainless steel tanks

Screens

Centrifuges

Homogenizers

Pasteurization systems

Filling systems

Bottle brushing machines

Juice pumps

Mash pumps

Mash basins

Mobile presses
Environmental technology / Shredding

Mashers / shredders

Straw conditioners

Styrofoam shredders
Washing machine WA LC40 for EBP500 with foot extension, EBP650, EBP820
Washing system consisting of washing vessel, vertical auger-type elevator and add-on centrifugal mill RM40. The pivoting turret allows the upper section to be rotated through 90° to save space during operation and make cleaning easier.
Images and Videos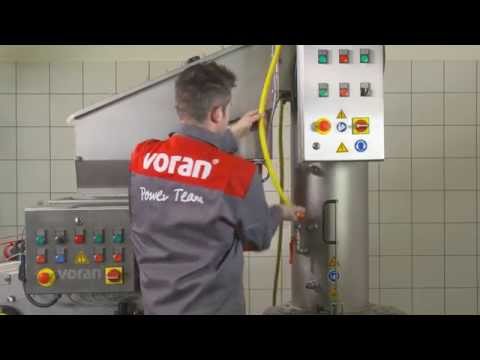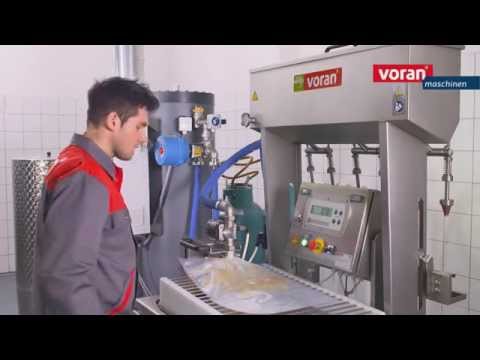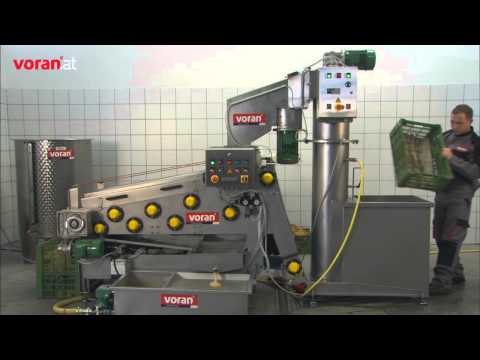 Technical data
Scope of supply
cutting screen 7 mm, 9 mm and 12 mm
Height mash outlet
1 500 mm
Connection for washing vessel
2 "
Connection for cleaning
½ "
Material
1.4301 / AISI 304
Weight
285 kg
Discharge height
720 mm
Height
2 380 mm
Width
700 mm
Length
2 000 mm
Electrical protection
16 A
Connected load
400V 50Hz (3 phases)
Motor rating
6,2 (8,5) kW (PS)
Nominal rating kg/h
up to 3 000 kg/h
Processable materials
Apples, Pears, Quince, Beetroot, Carrots, Manioc, Vegetables.
This represents just an example, based on different materials and a selection of fruit processed in practice.
Options, accessories and spare parts
820300100
HD fan nozzle for cleaning connection WA LC
Show
Enquiry
10022796
bearing pin WA LC40
Enquiry
880700100
membrane in fruit acid resistant version WA LC
Enquiry
146230006
worm ejector (from model year 2009) WA LC
Show
Enquiry
545100070
solenoid valve for the water supply WA LC
Enquiry
14622096
floor storage (divided) WA LC
Show
Enquiry
145198034
sheet for membrane switch SA300 / SA400 / WA LC / WAR65
Show
Enquiry
160800039
connection cabel 5 m (WA LC)
Enquiry
160800038
inductive proximity switch WA LC
Enquiry
120700100
membrane switch (up to model year 2005) WA LC
Enquiry
121000531
actuator for access switch WA LC
Enquiry
121000526
access switch for protective device WA LC
Enquiry
121000520
safety end switch XCSPA592 WA LC
Show
Enquiry
10022016
filter holder for WA LC40
Enquiry
146771004
16 mm perforated screen for SA400/WA LC40
Show
Enquiry
146771003
16 mm cutting screen for SA400/WA LC40
Show
Enquiry
146771002
12 mm cutting screen for SA400/WA LC40
Show
Enquiry
146771001
9 mm cutting screen for SA400/WA LC40
Show
Enquiry
146771000
7 mm cutting screen for SA400/WA LC40
Show
Enquiry
10023423
foot extension 70 mm WA LC
Enquiry
146791000
hopper for operation with GKE (WA LC)
Enquiry
10021709
sorting table WA LC/WAR, length: 1.470 mm
Enquiry
145121006
overflow pipe WA LC
Enquiry
820600102
high pressure-adapter WA LC
Enquiry
810700401
V-ring (tool mill) SA300 WA LC40
Enquiry
10023040
magnetic water valve (WA LC40)
Enquiry
146725000
bulk bin hopper incl. frame (WA LC)
Enquiry
10024750
extension 100 mm RM40 throw off (WA LC)
Enquiry
Upstream and downstream products